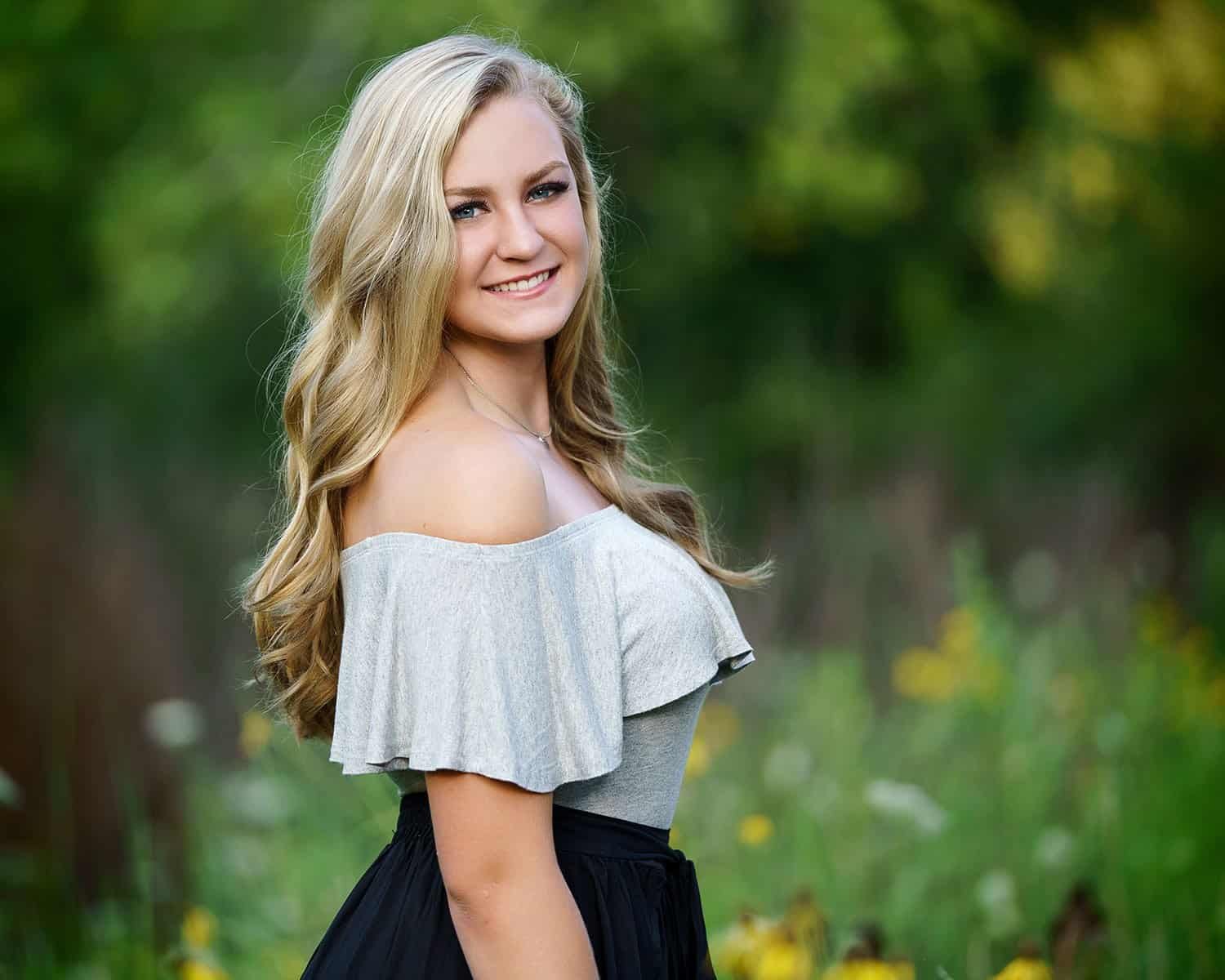 Today we're featuring our senior photo shoot with Lanie who's a senior at Cary-Grove High School. Lanie also won the Miss Cary-Grove Business Scholarship Pageant in 2018 and was one of our nFocus Model Reps for the Class of 2019!
Lanie's one of the nicest people you'll ever meet! She loves to dance and is a member of both the Cary-Grove swing choir and dance team. She also has a hugely supportive family that all came to her session and made it like one big giant party! So much fun!
We got a ton of great photos from our two shoots together, in the studio and outside. Check them out and then read what Lanie had to say about her nFocus experience!
nfocus: Thank you so much for being an nFocus Model Rep! How did you first hear about our Rep program?
Lanie: I first heard about the Rep program from Faith Poppe. She texted me and told me about this amazing opportunity to get beautiful senior pictures and be a featured model for Nick.
n: What was your favorite part of your photo shoots?
L: My favorite part of the photo shoots was hearing Nick's positive encouragement throughout the whole thing. Things like "wow that was a great shot" or "that soft smile was awesome" really made me comfortable and confident.
n: Is there anything you wish you'd done differently either to prepare or during your shoots?
L: One thing I wish I did differently was letting myself go a little sooner. Don't get me wrong, Nick made things super easy and comfortable, but I wish I got over my nerves earlier.
n: Did you feel like you were adequately coached through the shoots?
L: I 100% felt well coached during our sessions. It was always kind and constructive suggestions.
n: Your whole family came to your outdoor shoot this summer. Did you feel like it was a good bonding experience for all of you?
L: I absolutely loved having my whole family come to my photo shoot. It was so nice to have everyone there, having such a great time together. Now that my brother and sister are both out of college and have their own lives, it was really important to me to have picture taken with them now.
n: Did the final photos turn out the way you had hoped?
L: The photos turned out better than I could have ever imagined! I loved every single one of them!
n: What are you looking forward to about being a senior?
L: What I'm looking forward to the most about senior year is the whole "last time" experience. I really want to take everything in and enjoy every second of my senior year!
n: I know you love to dance! Who's a dancer you really admire?
L: Mia Michaels is a dancer that I look up to the most. She is such an outstanding person and a true inspiration in my life.
n: What's your favorite place to shop?
L: TJMAX! TJmax is by far my most favorite store in the entire world!
n: If you could take a friend anyplace in the world, where would you go?
L: Iceland would be the place I would take a friend. It is so unique and beautiful and has such an amazing, rich culture.
n: Do you know where you want to go to college yet?
L: Currently, I am applying to the University of Dayton, University of Kentucky, University of Louisville, and Western Michigan. I want to major in business marketing in hopes of becoming an event planner in the future.
n: What's something most people don't know about you?
L: Something not many people know about me is that my given name is Helen Claire Johnson, not Lanie Johnson or Helen Lanie Johnson. There are 4 Helen's in my family and not to get us confused, my parents gave me the nickname Lanie.