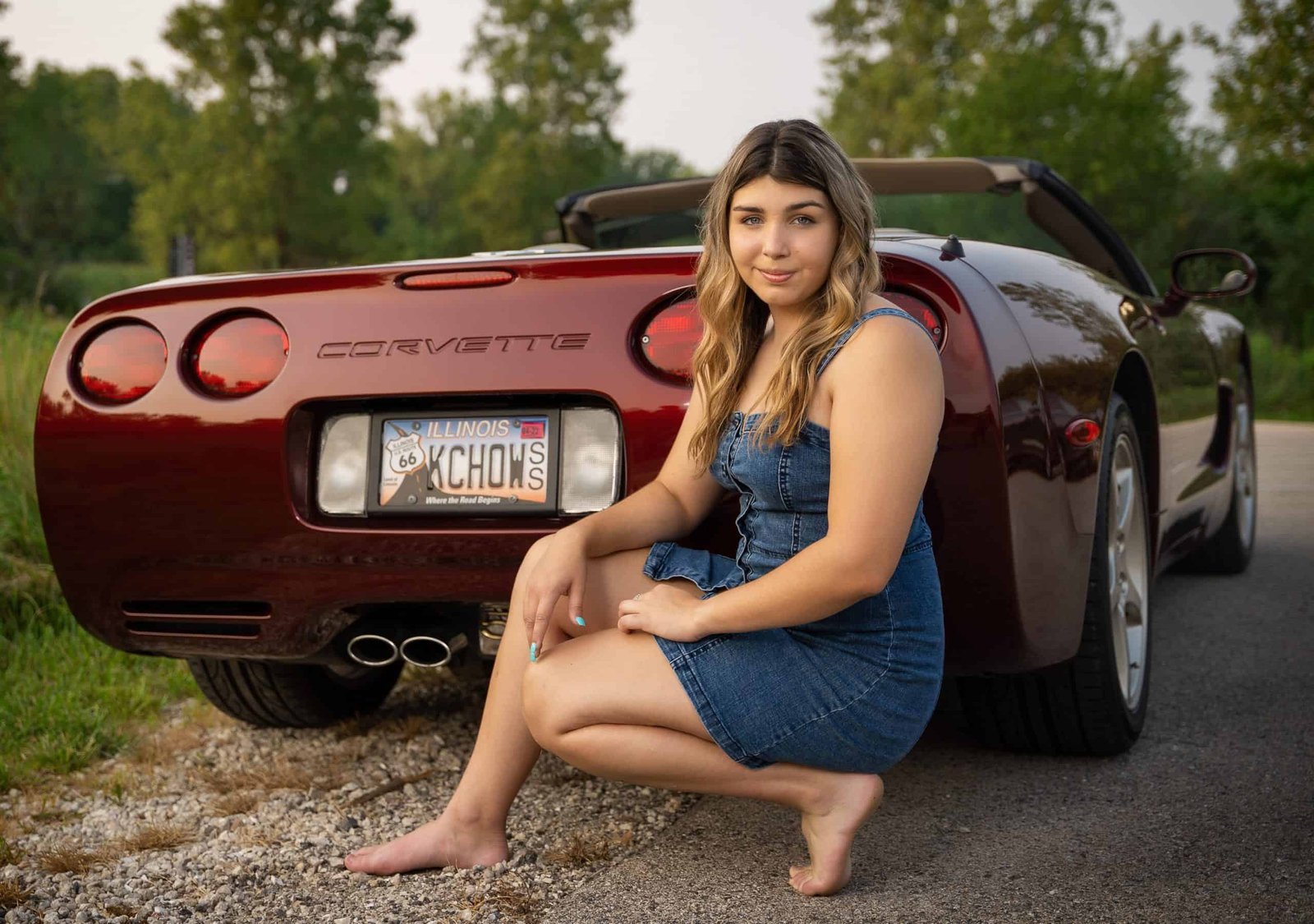 Today we're featuring senior photos from all of our photo shoots with Hailee who was one of our Class of 2022 Model Reps from Huntley High School.
Hailee had all kinds of great ideas for her shoots and we incorporated as many of them as we could!
As a Rep she got a bonus BFF shoot in the studio and Hailee came with her friends toting her vinyl collection and dressed in PJ's for our first ever vinyl PJ party in the studio!
For her two hour summer senior shoot, Hailee brough her sister, her boyfriend, her college tshirt and even a mint red Corvette straight out of the movie Cars! KaChow!!
The session was so much fun and the variety of photos we ended up with was amazing. Here are just a few…
If you're interested in being a Class of 2023 Model Rep, follow this link for more info!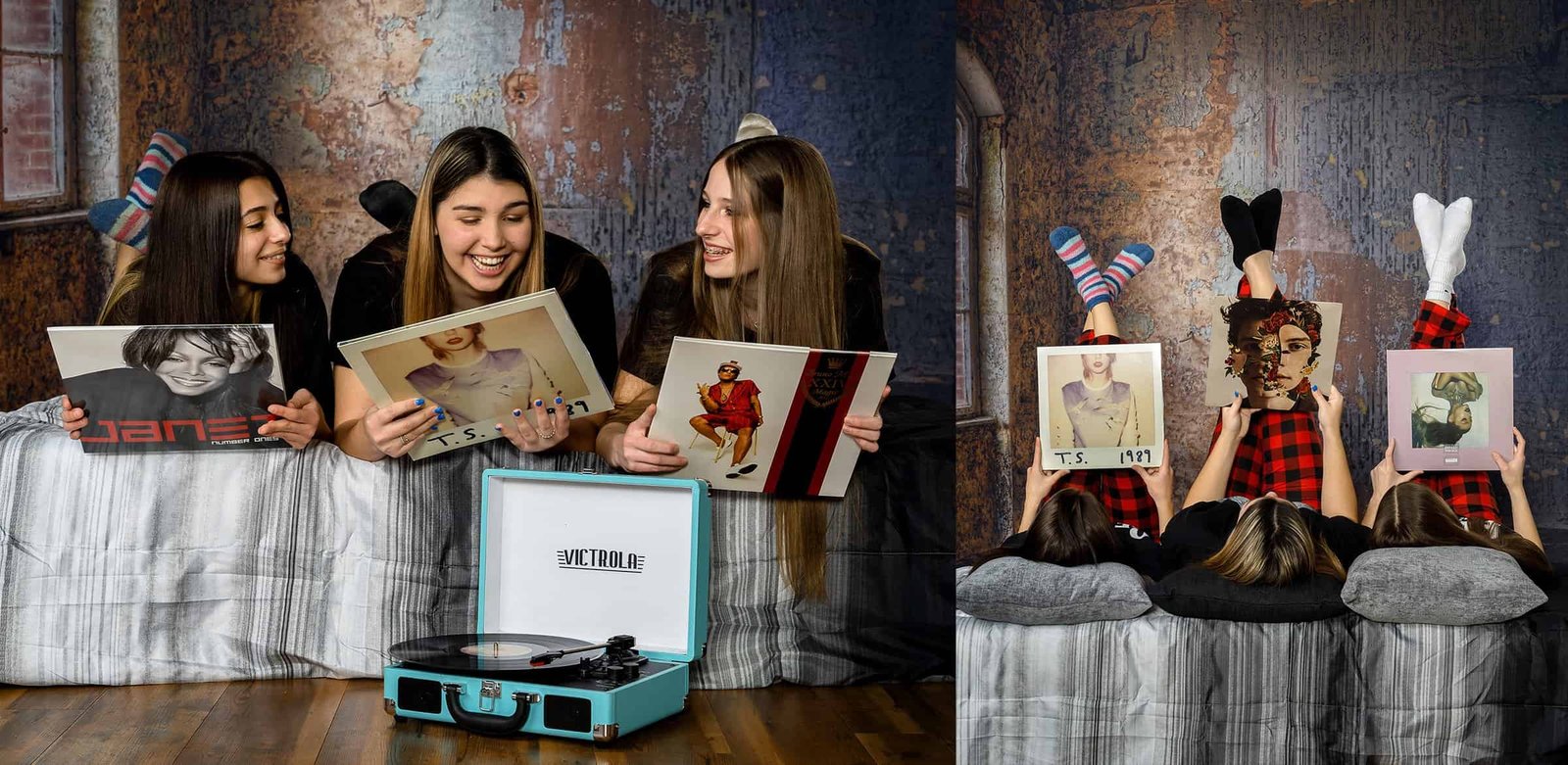 We sat down with Hailee for a quick conversation about her Model Rep experience. Here's what she had to say…
nFocus: Thank you so much for being an nFocus Model Rep! How did you first hear about our Rep program?
Hailee: I first heard about the Rep program through Ellie O'Donnell, who was part of the Rep program for the class of 2021. I saw some of her senior photos and I thought it looked like a lot of fun!
nFocus: How did you like the Model Rep experience?
Hailee: I absolutely loved it and wish I could do it again! I highly recommend that anyone who wants to participate, really should! It was a little awkward the first group shoot when I first met everyone, but after 5 minutes, it felt like I knew them for years! It was cool getting to meet new people and find similarities. And we all supported each other, which made the experience even better. I still talk to a few people from the first shoot actually!
nFocus: Was your senior shoot as fun as you were hoping?
Hailee: My senior shoot was more fun than I expected!! I loved getting to pick out the outfits and being able to help come up with different poses. And I don't think once during any shoot, did I feel awkward. Nick was so easy to work with and always asked for opinions!
nFocus: What was your favorite part of your photo shoots?
Hailee: All of it! Between coming up with what to wear, getting ready, taking photos, to waiting to see how the photos turned out! I liked how I could be myself!! I had got such a large confidence boost every time I saw a quick preview of how well a photo turned out which makes the experience better as well.
nFocus: What would you tell your friends who may want to have a classmate take their photos?
Hailee: I think it's important to have a pro! The photos come out really good and Nick makes the process easy! I understand we all have some other financial things and not everyone can do the Rep program, but you should still do at least a senior shoot with Nick! It's your senior year and you have one shot at it. Go for it! The photos I received, I will cherish for a life time.
nFocus: What's the last good TV show you binged?
Hailee: Oh my! Too many platforms to choose from. I would probably say "The Office" or "You" on Netflix. I'm addicted!! I'm waiting for season 3 of Outerbanks to come out so I can binge that as well!
nFocus: Congratulations on being accepted by the University of Oregon! What are you most looking forward to about being a Duck?
Hailee: Thank you so much! There's so many things I'm looking forward to! I'm actually from Oregon, so I'm pretty excited to be able to move back home for school and be closer to my extended family. I want to do social media marketing as career, so I'm looking forward to studying and taking the business classes that Oregon offers. Other than that, I'm pretty excited for the football games!! Oh, and having the Oregon Duck as a mascot!
nFocus: What's something most people don't know about you?
Hailee: There's so many things. Maybe that I know American Sign Language! I've had dinner with olympic gymnast Mykayla Skinner before which was really cool! I've also met a ton of other famous celebrities from sports and tv shows!
If you're interested in being a Class of 2023 Model Rep, follow this link for more info!